Cervical Spine/ Canal Stenosis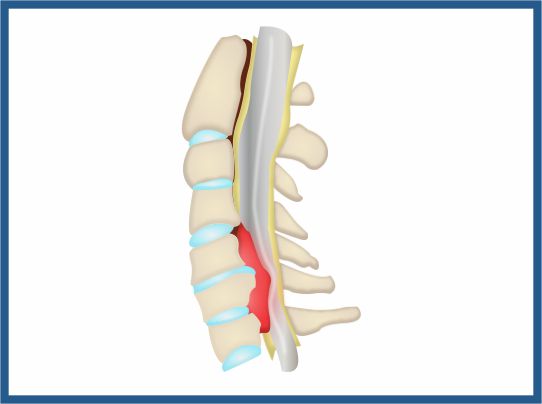 Causes
Overgrowth of boneWear and tear damage from osteoarthritis on your spinal bones can prompt the formation of bone spurs, which can grow into the spinal canal. Paget's disease, a bone disease that usually affects adults, also can cause bone overgrowth in the spine.
Herniated disks The soft cushions that act as shock absorbers between your vertebrae tend to dry out with age. Cracks in a disk's exterior may allow some of the soft inner material to escape and press on the spinal cord or nerves.
Thickened ligaments The tough cords that help hold the bones of your spine together can become stiff and thickened over time. These thickened ligaments can bulge into the spinal canal.
Tumors Abnormal growths can form inside the spinal cord, within the membranes that cover the spinal cord or in the space between the spinal cord and vertebrae.
Spinal injuries Car accidents and other trauma can cause dislocations or fractures of one or more vertebrae. Displaced bone from a spinal fracture may damage the contents of the spinal canal. Swelling of nearby tissue immediately after back surgery also can put pressure on the spinal cord or nerves.
Symptoms
Neck pain
Pain, weakness, or numbness in the shoulders, arms, and legs.
Hand clumsiness.
Gait and balance disturbances.
Burning sensations, tingling, and pins and needles in the involved extremity, such as the arm or leg.
In severe cases, bladder and bowel problems.
Although rare, severe cases can also cause significant loss of function or even paraplegia.