The hip labrum is a ring of strong, flexible cartilage that rims the outer edge of the hip socket (acetabulum). The labrum serves several purposes, including:

Deepening the joint and increasing the surface area of the hip socket by 21%1
Allowing for a significant range of motion
Helping maintain alignment between the hip's ball and socket
Keeping joint fluid inside the hip joint capsule (joint fluid reduces joint stress and friction and allows the ball and socket to smoothly move past one another) A hip labral tear is an injury to the labrum, the soft tissue that covers the acetabulum (socket) of the hip.
Type Of Hip Labral Tear -
Anterior labral tears, located at the front of the hip, are most common. Two contributing factors to the development of anterior tears include hip joint stress, such as repetitive pivoting, and poor vascular supply to the hip joint.
Posterior labral tears, located at the back of the hip, are less common. These types of tears are associated with movements that put stress on the back of the hip joint, such as frequent squatting.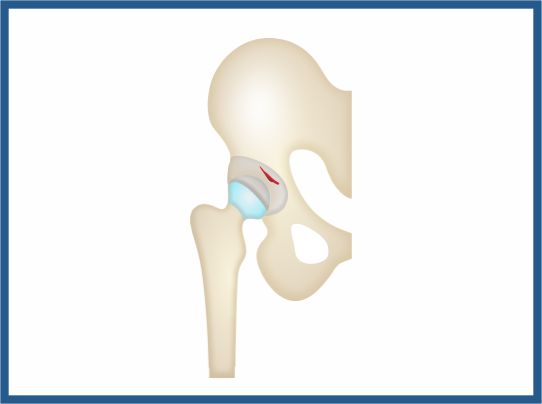 Causes
The torn Labral Tear caused By-
Repetitive motions over time that lead to "wear and tear."
A traumatic injury. It is especially common in athletes who perform repeated hip flexion and sudden impact on the hips, such as runners, hockey players, soccer players and football players.
Hip impingement (also known as femoroacetabular impingement), a condition in which there is abnormal contact between the ball and socket of the hip, due to a deformity of either the femoral head or the acetabulum.
Osteoarthritis of the hip, a degeneration of the cartilage, which can lead to rough, bone on bone contact in the hip.
Structural ailments: Conditions that cause abnormal hip movement can also lead to hip labral tears.
Symptoms
Deep groin pain or pain in the buttocks on the side of the injured hip.
A feeling or sound of clicking or locking when your hip is in motion.
Hip pain, especially while it rotates in certain directions.
Stiffness while moving your hip.
Needing a railing to climb the stairs.