Avascular Necrosis Avascular necrosis (AVN) is a disease of the bone. Necrosis is a general term that means a cell has died. AVN is also called:
Osteonecrosis
Aseptic necrosis
Ischemic bone necrosis
Bone infarction
When the blood supply to the hip joint fails, death of bone occurs.Like any other living tissue, bones also require blood for their life. Blood vessels do the work of bringing blood to the bones. Many other living tissues are supplied blood from many directions, protecting them from damage, but unlike these living tissues hip joint is one of the tissues, which is supplied blood by only few blood vessels. And in the absence or decrease in blood supply, avascular necrosis (AVN) of hip occurs, which is also called as "osteonecrosis" meaning death of bone.
Grades of AVN
There are four stages that define how bad the disease has progressed. 
Stage 1 - has a normal x-rays but MRI reveals the dead bone. 
Stage 2 - can be seen on regular x-ray but there is no collapse of the femoral ball. 
Stage 3- shows signs of collapse.
Stage 4 - has collapse on x-ray and signs of cartilage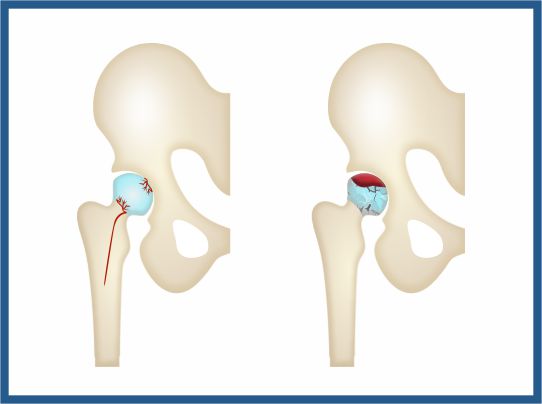 Causes
Osteonecrosis of the hip develops when the blood supply to the femoral head is disrupted. Without adequate nourishment, the bone in the head of the femur dies and gradually collapses.
Risk Factors
Blood vessels can be damaged even due to the injury to the hip itself.
Damage to blood vessels can also occur due to fracture of femoral neck.
Hip dislocation can also cause damage to blood vessels.
Taking high doses of corticosteroids for a long time, such as prednisone or cortisone, because they can increase fatty substances (lipids) in the blood, which can block arteries
Smoking and alcohol consumption have been found to cause avascular necrosis. Smoking leads to constriction of blood vessels, thereby reducing the blood flow to hip joint.
Childhood diseases including Legg-Calve Perthes disease
Chemotherapy or Radiation
Symptoms
Mild or severe pain in or around the affected joint
Groin pain that spreads down to the knee
Pain that occurs when putting weight on the hip or knee
Joint pain severe enough to limit movement
Pain may dramatically increase in intensity because of tiny breaks in the bone, called microfractures. These can cause the bone to collapse.