Shoulder impingement syndrome is a condition where your shoulder's bursa and/or rotator cuff tendons are intermittently trapped and compressed during shoulder elevation movements.
The shoulder impingement zone is located between the head of your humerus (shoulder's ball-shaped bone) and the top of your shoulder blade (known as the acromion). 
It's also known as impingement syndrome or swimmer's shoulder since it's common in swimmers.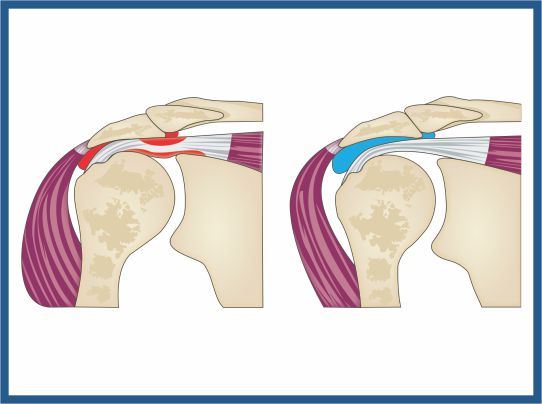 Causes
While a traumatic injury eg fall, can occur, it is repeated movement of arm through the impingement zone that most frequently causes the bursa/rotator cuff to contact the outer end of the shoulder blade (acromion).
Shoulder impingement are caused by overuse.
Occupations that require lots of heavy lifting or arm movement.
These include:
Construction work
Moving boxes
Painting
Symptoms
Pain or clicking when putting your hand behind your back or head.
Pain reaching for the seat-belt or across your chest.
An arc of shoulder pain approximately when your arm is at shoulder height and/or when your arm is overhead.
Pain when lying on the sore shoulder.
Shoulder pain at rest as your condition deteriorates.
Muscle weakness or pain when attempting to reach or lift.
Treatment
NSAIDs-  nonsteroidal anti-inflammatory drugs, such as ibuprofen (Advil, Motrin), can help reduce swelling and shoulder pain.
Physical Therapy- Shoulder impingement usually responds well to physical therapy, which uses gentle exercises to rebuild strength and range of motion. Strenghtheing and flexibility exercise help to improve or maintain joint range of motion.
If other treatments don't seem to work, you may need surgery to widen the space around your rotator cuff. This allows it to move freely without catching or rubbing on your bone. This can usually be done with minimally invasive arthroscopic surgery, though more severe cases may need traditional open surgery.