A bursa is a thin, slippery, fluid-filled sac that serves as both a cushion and lubricant between bone and surrounding soft tissue, such as skin and muscle.Swelling and other bursitis symptoms occur when a bursa becomes inflamed.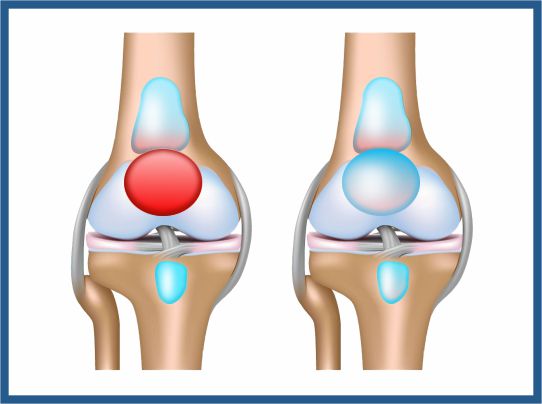 Causes
Previous injury
Repetitive, prolonged kneeling
Another underlying condition. A prepatellar bursa can become inflamed as the result of another condition, such as knee osteoarthritis, rheumatoid arthritis, gout, or pseudogout.
Infection. About 20% of people with knee bursitis have septic bursitis, meaning a prepatellar bursa is infected.
Symptoms
Localized swelling. An inflamed prepatellar bursa swells up with fluid, and this can be felt and seen through the skin. As it progresses, the knee joint can look double in size. 
Tenderness and pain. Knee bursitis patients' reported pain and tenderness varies. For some people, the affected knee might feel achy. Others may just feel tenderness when they put pressure on the knee, for example when kneeling or just pressing down on it.
Warmth and redness. The temperature of the skin over the affected knee might be warmer than elsewhere and may be pink or red.
Fever and illness. Having a fever or chills or feeling tired or sick, in addition to other bursitis symptoms, can be a sign of septic bursitis.
Treatment
Rest. Activities that may aggravate the affected prepatellar bursae, such as high impact sports and kneeling or crawling, should be avoided.
Cold compress. Applying a cold compress to the knee for about 20 minutes two or three times a day may help alleviate symptoms and decrease swelling.
Elevating the affected knee. Keeping the knee elevated above the heart may help reduce swelling.
Compression. An elastic medical bandage (e.g. Ace™ bandage) wrapped around the affected knee joint can help control swelling.
Non-steroidal anti-inflammatory drugs, or NSAIDs. Lidocaine patches.
Topical analgesics
Aspiration. Removing fluid from the swollen prepatellar bursa using a needle and syringe will immediately relieve pressure in the knee. This procedure, called aspiration or arthrocentesis, may be immediately followed by a corticosteroid injection to reduce knee swelling.
Corticosteroid injections.
Antibiotics
Surgery