An injury in which the hip bone is displaced from its normal position.A traumatic hip dislocation occurs when the head of the thighbone (femur) is forced out of its socket in the hip bone (pelvis). It typically takes a major force to dislocate the hip. Hip dislocation is very painful and can cause tears or strains in adjacent blood vessels, nerves, muscles, ligaments and other soft tissues. The most serious complications associated with hip dislocations are avascular necrosis (bone death), and sciatic nerve damage.
When there is a hip dislocation, the femoral head is pushed either backward out of the socket, or forward.
Posterior dislocation In approximately 90% of hip dislocation patients, the thighbone is pushed out of the socket in a backwards direction. This is called a posterior dislocation. A posterior dislocation leaves the lower leg in a fixed position, with the knee and foot rotated in toward the middle of the body.
Anterior dislocation When the thighbone slips out of its socket in a forward direction, the hip will be bent only slightly, and the leg will rotate out and away from the middle of the body.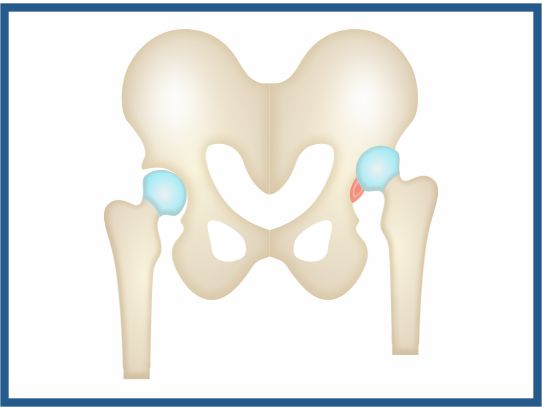 Causes
Motor Vehicle accident - most common cause of traumatic hip dislocations
Dashboard Injury
Sports injury
Laxity of the joint
Fall from height
Symptoms
Pain, Unable to move leg
limp during walking
Hip joint stiffness
Reduce joint movement
Pain radiates to the groin, buttock and thigh regions
Numbness, Swelling
Tenderness