The shoulder joint is called a ball-and-socket joint. The ball is the rounded top of the bone in the upper arm (humerus), which fits into the socket — the cup-shaped outer part of the shoulder blade. When the top of the humerus moves out of its usual location in the shoulder joint, the shoulder is said to be dislocated. A dislocation of the shoulder is a painful and debilitating glenohumeral joint injury. Most dislocations are anterior (forward) but can dislocate the shoulder afterward (backward). Inferior and posterolateral dislocations can occur but much less frequently. The specific form of dislocation at the time of the diagnosis is based on the position of the humeral head in relation to the glenoid (shoulder socket).
Types of Shoulder Dislocations
Anterior Dislocation - The head of the humerus is forced forward from within the glenoid cavity to a spot under the coracoid process with an anterior dislocation. Sometimes this form of dislocation is called a subcoracoid dislocation. Normally the joint capsule is avulsed (torn away) from the glenoid cavity margin.
Posterior and Inferior Dislocations- The head of the humerus moves backward behind the glenoid when the shoulder dislocates afterward. An inferior dislocation defines the humeral head position under the glenoid cavity. Subsequent and weaker dislocations of the shoulder account for only around five to ten percent of all dislocations of the shoulder. Many dislocations in the shoulder are in the anterior direction.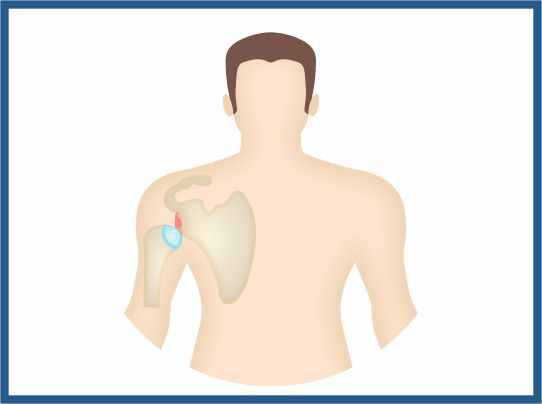 Causes
Falling on your shoulder or outstretched arm.
Sports injuries.
Accidents, including traffic accidents.
Seizures and electric shocks, which can cause muscle contractions that pull the arm out of place.
Shoulder laxity
Sudden forceful pull
Rotator cuff injury
Injury or Accident
Symptoms
Severe shoulder pain
Limited motion of the shoulder
A distortion in the contour of the shoulder — In an anterior dislocation, the side silhouette of the shoulder has an abnormal squared-off appearance instead of its typical sloping, rounded contour. In a posterior dislocation, the front of the shoulder may look abnormally flat.
A hard knob under the skin near the shoulder — This knob is the top of the humerus that has popped out of its socket.
Shoulder bruising or abrasions if an impact has caused your injury