The meniscus is a piece of cartilage that provides a cushion between your femur (thighbone) and tibia (shinbone). There are two menisci in each knee joint.
Damage to a meniscus, the cartilage that cushions the knee, often occurs with twisting the knee. Large tears may cause the knee to lock. a meniscal tear is one of the most frequently occurring cartilage injuries of the knee.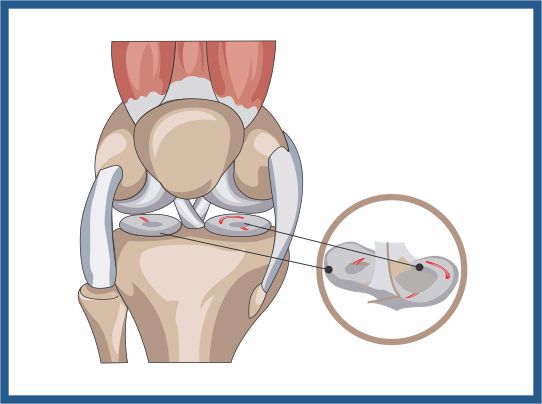 Causes
The meniscus can be torn during activities that cause direct contact or pressure from a forced twist or rotation. A sudden pivot or turn, deep squatting, or heavy lifting can lead to injury. Many athletes are at risk for a meniscus tear.
Sports that require sudden turns and stops may put you at higher risk for meniscus tears. 
Symptoms
Localized swelling. An inflamed prepatellar bursa swells up with fluid, and this can be felt and seen through the skin. As it progresses, the knee joint can look double in size. 
Tenderness and pain. Knee bursitis patients' reported pain and tenderness varies. For some people, the affected knee might feel achy. Others may just feel tenderness when they put pressure on the knee, for example when kneeling or just pressing down on it.
Warmth and redness. The temperature of the skin over the affected knee might be warmer than elsewhere and may be pink or red.
Fever and illness. Having a fever or chills or feeling tired or sick, in addition to other bursitis symptoms, can be a sign of septic bursitis.